Shopping Cart
Your Cart is Empty
There was an error with PayPal
Click here to try again
Thank you for your business!
You should be receiving an order confirmation from Paypal shortly.
Exit Shopping Cart
Whiskers and Tails Pet Sitting
Coping with the Loss of Your Beloved Pet
The loss of a pet can be as devastating, and in some cases more so, than the loss of a human loved one.
As a pet sitter and dog walker, I take care of many client's pets.  I love them as if they are my own pet.  Over the past three years, I have had to say goodbye to quite a few animals.  It is never an easy thing to cope with. I cry and grieve, just as I would for my own pet.
People grieve in many different ways.You can experience different emotions like, anger, sadness, depression, denial, and then eventually, acceptance and peace.
Being sad and emotional after losing your pet is perfectly natural.  Never feel ashamed about the way you feel.
Here are a few tips of coping with the loss of your furry family member:
Reach out to others who have lost their pets.  You can reach out to your church.  Most of them have support groups.  Friends and family are typically helpful.  There are grief hot lines.
Seek professional help if you need it.  Sometimes, when you talk to a neutral party it is easier.  They don't know you and they will not judge you.  
Rituals can help the healing.  Hold a memorial service or funeral for your pet. Today, there are many pet cemeteries.
Legacies.  You can plant a tree on behalf of your beloved pet.  Create a nice scrapbook with photo's and different memories that you and your pet shared. Make a donation to the local Human Society on behalf of you and your pet.
Taking care of yourself.  Grief will run you down.  That alone can make you feel depressed.  Get out of the house!  Exercise!  Surround yourself with happy and positive people.  That can do wonders for anyone.
Those are a few tips that I can share with you that have helped me in the past. Time will always heal your wounds or at least, make it a little less painful.
I  met an interesting man the other day when I was out walking.  His name is, Richard Cole. He is a pet loss counselor.  Works with individuals and families that are dealing with the loss of their pet. If you would like to contact him, the phone number is: 239-398-9104.
How to Cope with Losing a Pet
Allow yourself to cry. Bottling up your emotions is not good for you, and you will feel sad forever. Forget all that mumbo jumbo that you're not supposed to mourn an animal as much as you would a person. There was a bond that you cherished, and no matter the nature of the bond, it is missed.
Tell your friends about the loss. You might send out a mass e-mail, but not to everyone in your address book. Send it to those who know you well, and care about you. You will receive many responses that let you know others loved and appreciated your pet and will validate your feelings.

Remember your pet

. Don't pretend you never had one. Even though it makes you sad, it is best to remember and cherish the memories, not ignore them. It may hurt at first, but it's the only path to closure, and it's the only way you'll ever be able to remember fondly your time with your pet. This is a good time to make a 

scrapbook

 or post photos on your 

blog

 or homepage. Include pictures, stories, and notes about your pet. Read "The Rainbow Bridge" poem online. It will make you feel better about your loss.

Go on with life. Although losing a pet is very sad, it is no reason to shut yourself up in your house or go into depression. Your pet has always felt comfort in your comfort, and the sooner you get back on track, the sooner you'll be yourself again.
Consider volunteering at a local animal shelter. While emotionally, you may not be prepared to welcome another pet into your home right away, the act of helping to care for a homeless pet, a pet in desperate need of a caring human, may help with your grieving and sadness.
Do something in memory of your pet. Plant a tree, donate to a shelter or college of veterinary medicine.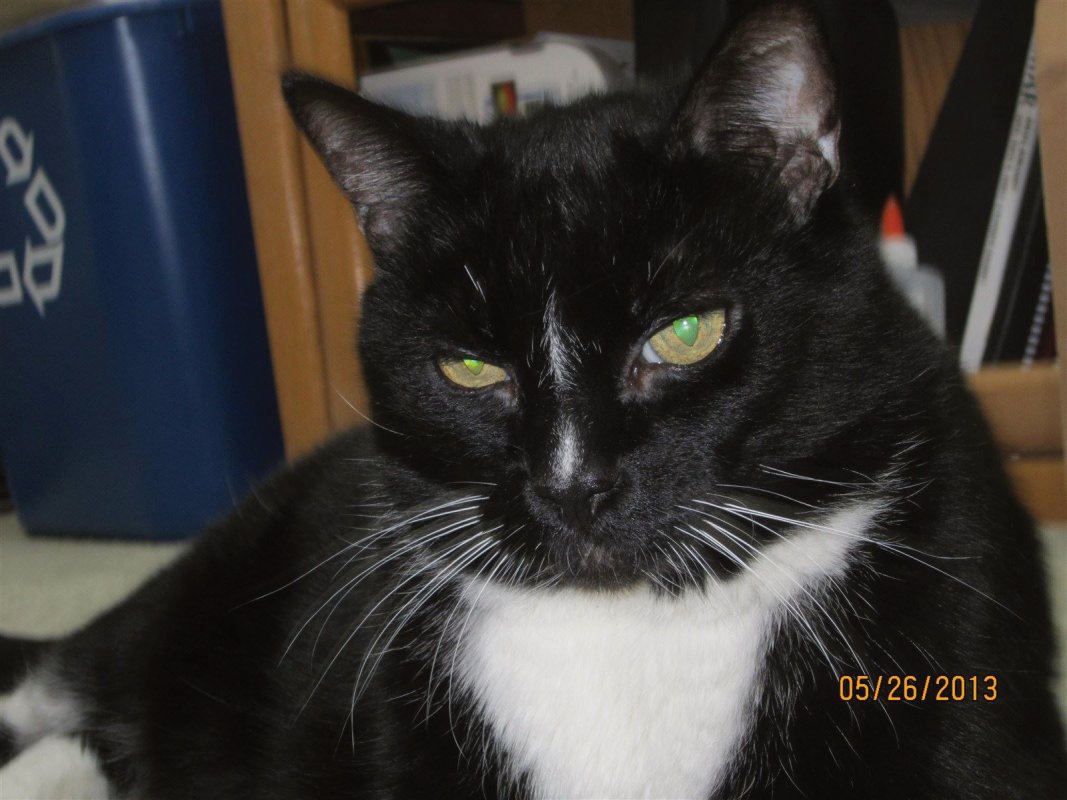 Mr. Tank passed away last night 9/17/2013 of a heart attack.
RIP!  We will miss you here at Whiskers and Tails.
/